Harmonizing Leadership: Eastern Wisdom; Western Results
Described as an intellectual and physical feast of learning, Harmonizing Leadership is a unique leadership approach and style from a 2,500 year-old oriental philosophy. Through one- to three-day Harmonizing Leadership workshops, you will take your organization to places it has never been before and discover your own intellectual, emotional and physical balance points. Dr. Thomas Krapu, who created Harmonizing Leadership, has extensive experience and a proven background in leadership workshop practices. Tom combines ancient eastern philosophies such as T'ai Chi Chuan and Taoism for the quintessential retreat that will impact your leadership style, your business and your life.
June 8th, 2020
Whether you are developing as a "leader as coach" or are already a professional coach, curiosity is an important skill to be effective as a coach or a leader. My ICF PCC Marker Taxonomy discusses coach behaviors that are specifically rooted in curiosity (more below).
(more…)
October 10th, 2019
Taking a break from my writing for the leaders I work with, I am writing today on the topic of coaching supervision for my colleagues who are coaches and coach educators.
March 9th, 2019
I am taking a departure from writing for my executive coaching clients to Blog as a coach educator. The International Coach Federation has developed 47 behavioral Markers that are being used to define and evaluate coaching conversations. While some leaders might be interested in the coaching behavioral markers, I am writing this primarily for my coaching colleagues.
This is the debut of the ICF PCC Marker Taxonomy that I have developed. It is a tool that can make understanding and integrating the 47 PCC Markers into one's coaching practice less formidable.
July 5th, 2018
How do you keep your workforce strong even when you have turnover?
Systemic onboarding. I will tell you what I mean by that.
The importance of effectively onboarding new employees can't be emphasized enough, regardless of what level of the organization they are entering. Training is essential, but a narrow focus on training is not enough. There is more to consider.
September 12th, 2017
This is part two in a series of blogs about 360 feedback.
For a video presentation of this case study see: https://youtu.be/xRy_oBOW-3w
For a broader discussion about creating a feedback culture see:
https://starcoachshow.com/321-creating-a-feedback-culture-dr-tom-krapu-pcc/
When people think about 360 feedback they usually think about an individual getting feedback for their personal development. This certainly is a benefit of getting feedback from "all directions" (360 degrees) in one's work life. But the impact on 360 feedback programs on an organization is often overlooked.
(more…)
July 13th, 2017
Today's blog will consider the ways that using 360 feedback surveys within your organization might be helpful.
You may have heard some of the negative press about 360 feedback surveys and their use. However, if given the opportunity I am sure that I can bring some clarity and sanity to this topic. Research has some much needed light to shed on the topic, and real world professional experience in organizations can add even more perspective.
April 27th, 2017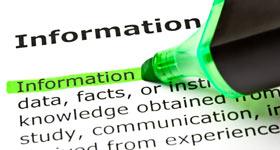 Informing not Hoarding
Lominger has a competency named Informing (ref). This competency is about how we share information and the impact that that has through our work.
Many of us take this impact for granted and aren't as intentional or as fully impactful as we could be in this area. The subject of this blog entry is how to become more powerful in how you inform others at work.
November 1st, 2016
If coaching is a continuous process, then it is not uncommon at all for coaching clients to email their coach about non-administrative matters. You may be wondering, how does this work? Is it coaching?
Today's post explains how some emails are considered coaching and will discuss some best practices that can be rules for the road. These rules can also apply to voice mail correspondence.
October 11th, 2016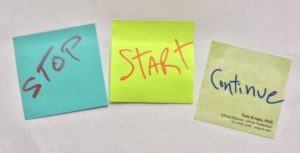 Feedback is the life blood of high functioning organizations, hence the popularity of 360 methods for creating feedback loops within the organization.
But formalized 360 methods are not the only way to create feedback loops.
August 5th, 2016
If coaching is a continuous process, then the possibility of gathering data to demonstrate the value of coaching is also continuous.
People ask me, how do you measure value?
How will we know the coaching had impact?
The answer is to collect qualitative data throughout a coaching engagement. Qualitative data can point to the ROI that the coaching is yielding.
If qualitative data is an important potential ROI measure it raises the question, "How do I collect such data?"